I went to scope out the gorgeous bag situation [see yesterday's post] at Target. The striped and the equestrian totes were not there. The dreamy cognac bag...was a heartbreaking, utter disappointment. It is ugly and fake. I spotted it from the door and it was dreamy from there, but from a few feet away, it's obviously crap. Le sigh.
But onward! In the beauty clearance section I spied the Sonia Kashuk duffel bag I'd been wanting for 30% off. Yes, thanks! It is huge for a cosmetic travel bag, but small for a regular duffel bag (perfect for a carry-on flight bag). Super lightweight, and it comes with two small bags for little liquid toiletries (the bags are velcro'ed to the inside--genius). Sadly, it's no longer available online.
I also scored two bulletin boards for $2.50 each. I've been wanting to do a big, fabric-covered board forever...so many adorable ones in the blogosphere. But these two smaller ones together should work out fine. Tomorrow I'll head to JoAnne's...I was doubtful of the selection, but I just saw this swatch: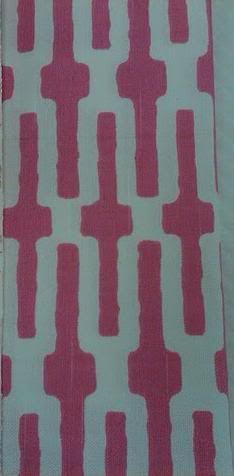 ...over at
Framing Spaces
, and that has given me hope. I might just go with that fabric unless I find a royal blue geometric pattern that wins me over. Then I'll need some ribbon to trim it out and a little craft paint for the frame.
P.S. If I don't post the results soon, it's a safe bet that I have had a fatal crafting accident. I am not like the rest of you, who can whip up a houseful of drapes in a morning or upholster a chair in ten minutes. It is much more likely that I will end up glued to the cork and the floor and the table, with ribbon tangled in my hair and limbs and a wild look in my eyes.