Pics of the humble mini-project are coming soon. Bad weather has been keeping my very inquisitive puppy inside and up in my business all week, so it's hard to find opportunity for messy things like paint and glue.
I decided I need to upgrade my nightstand situation from the plastic and MDF Container Store cabinet to something nicer. Maybe something shiny and sophisticated. Maybe a round brass and glass campaign side table. It turns out they are crazy expensive (for me).
But then I saw this: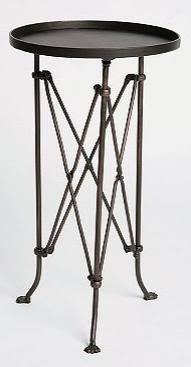 which is a lot cheaper than this: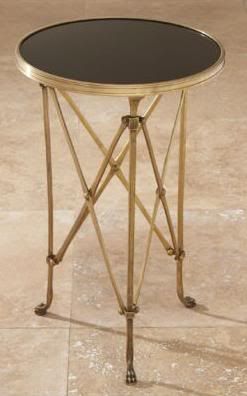 Hmmm. Does anyone know if it would be feasible to try to brass-i-fy the first one? With gold paint maybe? If so, I think I could like this accordian style instead of the campaign one.
Sources:
metal accordion side table, urban outfitters, $64
global views directoire brass & black granite end table, allcoffeetables, $613.80