I love to look at blueprints and imagine how they could work and how they could be filled. And I'm always on the lookout for the
ideal
layout...the one that is super-practical for how people live and yet still pretty.
Here's a very laughable, badly-done and horribly off-scale one I did in Paint.
The entry is the most important difference between mine and all the blueprints I've seen. I'd love an entry that is for guests
and
the people who live there. There should be a place to put all the stuff that people carry in and there should be a restroom close-by.
So the boxes with "cc" on them are supposed to be coat closets: one for the family to store their outerwear and boots in, and one to stay empty and ready for guests' stuff. Then there is the powder room on the left and immediately ahead is a built-in console that is actually half-desk in the office. This is for the mail, the bag, the keys, the gadgets that need to be dumped. I love that you can just walk into the office and process all that stuff instead of having to carry it to another location.
And the groceries don't have far to travel; the kitchen is right around the corner. I'd have no front-porch steps to interfere with a cart to bring the groceries in with.
The butler's pantry is another favorite. Lots of built-ins for all the serveware, nice dishes and flatware and glassware. And a wet bar. Mayyybe a dishwasher. The dining room would have a bar cart for rolling food and dishes back and forth.
I'd also love a living room that can comfortably seat 8-10 people, or accommodate 2-3 lounging people. Here's something thrown together just to show furniture arrangement...the colors/patterns aren't important.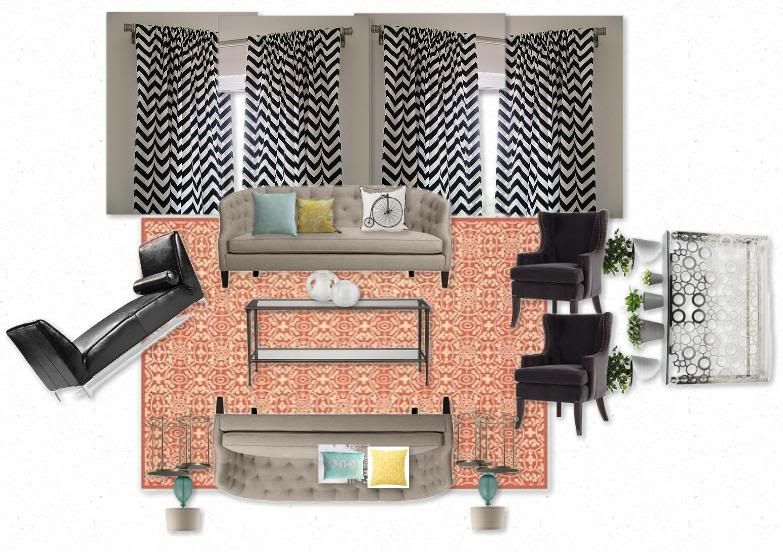 Ideally, everyone would have a seat-back (no stools or benches or cushioned ottomans for seating). I'm not sold on a chaise for that reason...maybe another two chairs should be in front of the fire instead. Lots of big windows behind the sofa, and in front of the console table, french doors leading out to the side porch.
The master closet would be great if it would house all clothes, so that there would be no dresser in the bedroom, and the whole dressing ordeal could take place in the same space.
I'm thinking I'd eliminate that hallway between the laundry room and the office to make the laundry twice as big. Then there'd be room for laundry sorting bins and shelves and a utility sink and drying rack for delicates.
Sketching out and dreaming of house-plans is so much fun!