So Pantone picked the color of the year...and it's so fun and happy! Here's hoping 2011 will be the same, at least in parts, for everyone.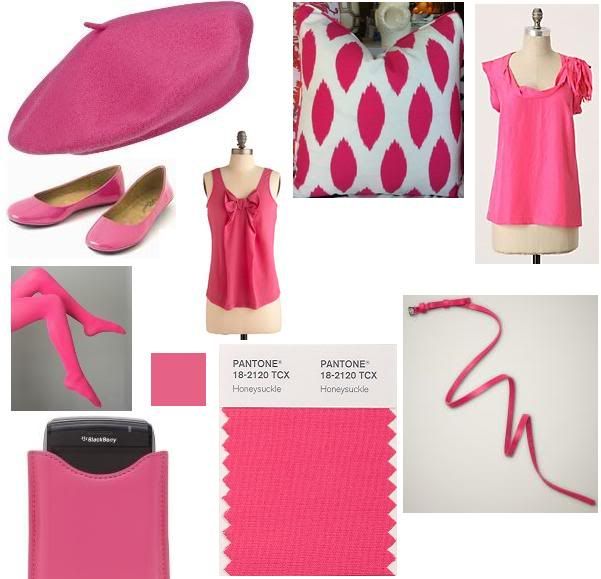 I boarded the love train for this color already...with 2 shirts, a wallet, a pair of tights, and most recently a pair of convertible mittens from the dollar bin at Target. That phone pouch was on my wish list, and I planned on buying it myself if Santa didn't bring it...sadly, it's temporarily out of stock. Who knew I had so much pink.
O! How could I forget the fabulous paintings from Nicole Cohen? They would be the very ultimate way to bring honeysuckle into your life.
Sources:
merona beret 12.99 target
flats 17.99 mynewshoe
haute pink top 27.00 modcloth
fleckled pillow 50.00 furbishstudio
bailaora blouse 109.95 anthro
skinny leather bow belt 24.50 gap
pantone 18-2120 honeysuckle swatches
walk it out tights 18.00 lulus
blackberry pouch 20.00 kate spade
day glo abstract 2 300.00
nicole cohen's etsy shop
abstract painting 1,200.00 (same as above)