...with some sunny yellow pieces! Yellow is one of those unique colors that works both as a surprising pop of color and also seems to go with almost every other color out there...could we call it a neutral? Maybe not, but it works with so many things. I was grieved when my mustard shoulder bag had to be retired from over-use...it went with nearly every outfit I owned in any season.
Yellow may not be the most flattering color for a lot of us (definitely it doesn't flatter me), but it's so fun to have around, whether in a clothing accessory or a throw pillow. I'm hoping for the bright diary below for a birthday present next month...it'll be cheery on my nightstand.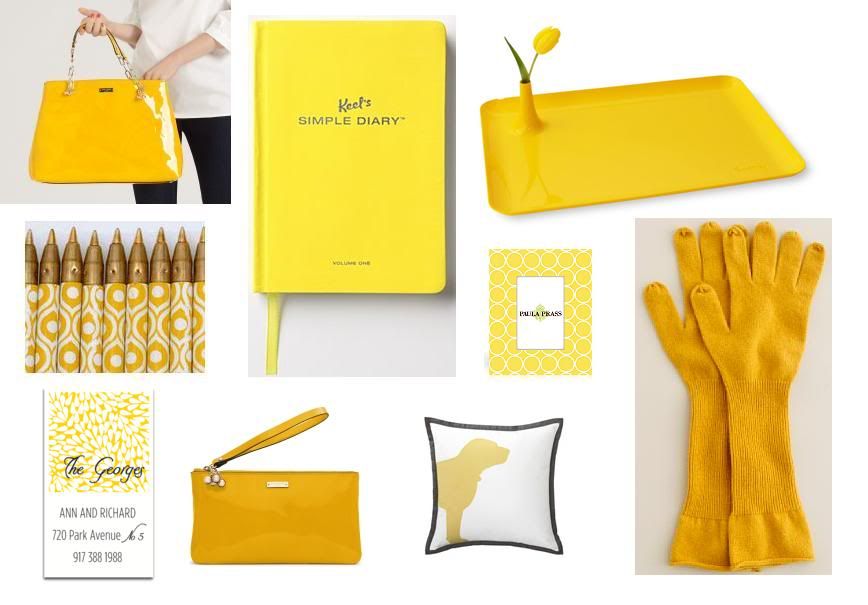 Love those pens and that calling card!
Sources:
washington mews maryanne, kate spade $425
keel's simple diary, anthro $15
Le Petit Dej' Breakfast Tray, a+r $92
cashmere gloves, j.crew $29.99
mod circles picture frame, paula press $34
serena and lily curry buddy pillow at laylagrayce $88
washington mews zippered chrissy, kate spade $125
iomoi calling cards $68 for 50
iomoi pens $20