Tonight, several happy hours were spent filling up the new Kate Spade planner with addresses and birthdays and restaurant numbers and events and appointments. It's ever so pretty. And here, finally, is the gift guide I was hoping would be a little more spectacular and full. O wells. I wish I was curled up in that coral throw, drinking mulled cider, and reading Happy Chic Colors right now...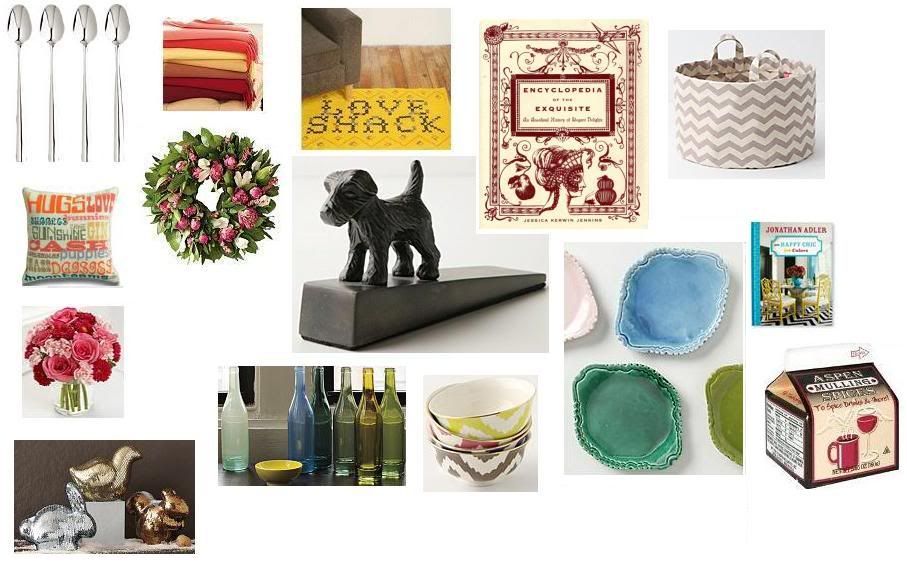 Pretty things no one has or could always use more of:
iced tea spoons, crate and barrell
cashmere throws, williams-sonoma home
love shack rug, urban outfitters
encyclopedia of the exquisite, barnes and noble
mountain peaks bath basket, anthropologie
happy chic colors, jonathan adler
aspen mulling spices, world pantry
jimmies-on-frosting plates, anthropologie
ikat mini bowls, anthro
recycled spanish-glass vases, west elm
watchdog doorstop, anthro
dried peony wreath, wsh
happy pillow, j.a.
precious heart bouquet, ftd
sequin animals, west elm